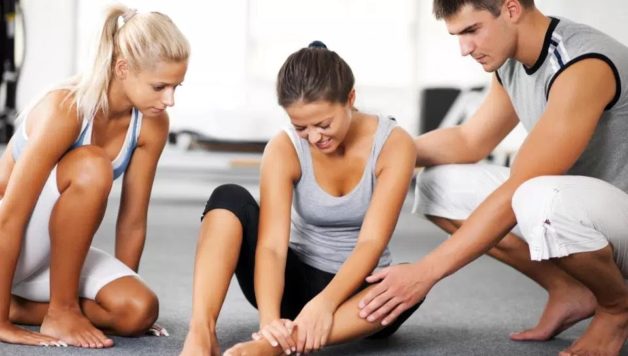 Gym Injuries On The Rise as Brits Push To Get Fit For Summer
Published On October 3, 2017 |
Health
A recent study found that roughly 41% of adults in the UK have suffered injuries while attempting to get fit for the summer.
Now, with an estimated 45% of the adult population frequenting the gym, whether their objective is building muscle, keeping fit or shredding pounds of fat for the summer getaway, the likelihood of injury is on the increase.
With more bodies in the gym, more injuries are inevitable: more than 1 in every 10 Brits have sought after medical attention in relation to an exercise injury. 41% have suffered what is colloquially known as a 'gym-jury', as they push themselves for that well defined, Instagram-worthy shape.
The latest report, carried out by Hayward Baker, pooled the experiences of 1500 adults living in the UK. As well as highlighting that a gym workout is now the UK's most popular form of exercise, it shows that 12% of gym dwellers have either visited their GP or have been faced with a trip to Accident and Emergency departments after a work-out faux pas. This translates to around 1 in 20 currently visiting a physiotherapist or chiropractor due to longer-term injuries caused by strenuous exercise.
Furthermore, 9% of gym users have continued to work through the pain barrier, with a number as high as 38% of lean-machines not warming up or stretching before commencing their routine. A reluctance to limber up goes against all specialist advice from gyms, personal trainers and sports medical experts.
1 in 10 have admitted to 'overdoing it', by smashing out multiple mile cardio routines or lifting beyond their capacity straight off the bat, before appropriately loosening up. The dangers of heading straight for the PB without prior warming up, as well experts know, can cause serious damage in several ways.
The study goes on to suggest that 1 in 20 British adults have come clean about not knowing how to perform the correct exercises on gym equipment, in addition to many not even being shown the ropes in an induction.
From Hayward Baker, a spokesperson commented that "this is the time of year that everyone panics and tries to lose weight and get in shape for the summer". He went on to provide a damning verdict on gym exercise, citing that "these stats prove that losing weight is a recipe for disaster and that injuries and accidents can happen. It's vital you understand how all the equipment works and that you know your limits".
After heading to the gym, brits are taking to power walking and swimming as their favourite get-fit routines. Currently, one in five adults are getting on the saddle and cycling to lose weight, with 10% playing regular football to keep off the winter weight. 11% have attempted to improve their core by turning to yoga – in both ambient and hot forms.
Drilling into the statistics regarding the actual injuries suffered, it has been found that the most common of the gym-related impairments is a sprained ankle (21%), with the valiant runner up existing in the form of a back problem (18%). Other harm caused by strenuous activity includes breaking an arm, leg or hand (16%), with around 10% suffering from worrying chest pain. 1 in 20 are said to have slipped a disc in their spine, potentially ruling them out of exercise for months on end.
The gyms themselves will be paying close attention to the study. 'Gym-juries' occurring in leisure facilities have the potential to occur at the liability of the management team, thus rendering them potentially liable for prosecution. It is their responsibility to mitigate the risk of injury in their facility wherever possible.
Hayward Baker provide a free interactive resource in the form of an injury compensation calculator. This calculator provides an estimate of how much compensation the injured person may be entitled to in the event of a gym – or leisure facility – related injury.
The Hayward Baker spokesperson went on to say: "It seems that going to the gym and working out incorrectly could seriously damage your health.
"Our easy to use injury compensation calculator gives people access to information which could really help them decide if they have a valid claim to make."
Further musings from the study showed suggested that 28% of gym users have 'all the gear and no idea' with regard to working out safely and effectively. A third of the group frequently contemplate why the bother to keep fit if they are suffering with aches and pains after exercise, with as many as 40% believing they would never achieve that poster-body physique in time for their holiday.
Firms such as personal injury specialist Mackrell & Thomas Solicitors can offer support if you have been affected by a gym related injury.