Nowadays, Hair loss or alopecia is a very common issue in all over the world. Day by day, medical fraternity is witnessing increasing demand for a permanent solution of baldness. India is also not unaffected by this increasing quest. Continuous research work is going on to cater the problem of hair loss or hair thinning. A current survey report reveals that about 60% of men and 10% of female are now affected by hair loss or alopecia. The extreme result of continuous hair thinning is premature baldness. Baldness not only destroys your look but also leave a huge impact on your personality. With the advancement of medical research, it is obvious that the ultimate and permanent solution for male pattern baldness is hair transplant surgery. Like all other cities in India, hair transplant in Ludhiana is transforming thousands of lives daily.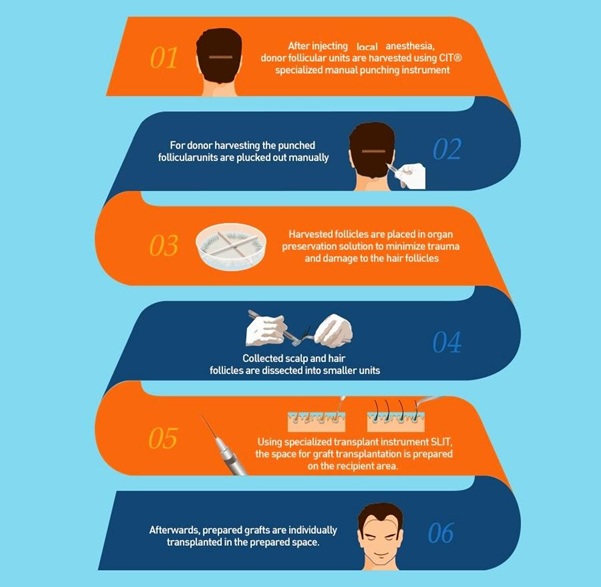 Hair transplantation is the only option with the help of which you can certainly regain your natural looking hair. The procedure of hair transplantation involves restoration of hair roots from the donor area to the recipient area. Thus, you can get back your own original look without any side effects or discomfort. However, remember that the surgery must be performed by reputed hair transplant clinics with experienced surgeons.
Why is hair transplantation considered to be a permanent solution?

Hair transplantation is a revolutionary discovery in medical science which helps to rediscover your youthfulness. The following points are the key features for which it is considered to be a permanent solution for hair loss problem-
Hair restored from permanent area
In both FUT and FUE hair transplantation procedure, hair follicles are extracted from safe donor area generally from the back and side portion of the scalp. These hair follicles are usually permanent in nature as they are DHT resistant and free from the effect of androgen hormone which causes hair thinning. One thing is to be mentioned that in FUT technique, newly grown hair's longevity is likely to be more than FUE technique. In FUE surgery, surgeon sometimes takes hair follicles from unsafe areas. But in FUT technique, only sustainable hair roots are extracted from donor area resulting long lasting hair.
You only implant your own hair
In Hair transplant procedure, your own hair follicles are shifted and implanted usually from the back and side portion of the scalp. So, newly grown up hair is nothing different from your own hair. You don't need any extra care and run your daily routine like swimming, walking, running. Also, the most positive aspect of this unique surgery is that you may do any type of hair styling as you like. Thus, without causing any major discomfort, hair transplantation can help you to get back your self-confidence and enhance your look. So, obviously, it is a reliable permanent solution for baldness problem.
Important Points to be noted post-surgery-
Don't get panicked if you notice hair fall after one month of the surgery. Actually, that is a transition stage and it may continue up to two months. Don't take any additional medicine or supplements to prevent that hair fall. It is just a sign of regeneration of your hair. Let the hair fall continue and after three months, you will surely get your regrown hair with natural look as desirable from hair transplantation surgery.
Hair transplant clinics offers excellent services in a quite reasonable and competitive rate as compared to other cities in India. Ludhiana is becoming a hot hub for hair transplantation with best possible facilities at an affordable price. Natural Hair Transplant is well-known hair treatment provider in India. But before undergoing any treatment the following points must be considered-
Always consider the reputed clinic where best-qualified doctors are available.

Your clinic should be well equipped with trained technicians and cutting-edge technology.

Always check your surgeon's prerecord of success with the patient's full contact details and photos.

Before booking a consultation, one must be aware of the cost of hair

transplantation in India.

Though hair transplantation seems to be an expensive treatment but in long run the cost is worth. You will save a significant amount by not buying expensive hair products or hair pieces as hair transplantation is a permanent solution to baldness. Generally, cost of

hair transplantation in India

varies between Rs. 35,000/- to Rs. 80,000/- depending upon your level of baldness.
Conclusion:
From the above discussion, it is very evident that hair transplantation is the only permanent solution for baldness. At the same time, you must be very cautious while choosing hair transplant clinics. So, come and enjoy the professional service of hair transplantation in India at best affordable price.
Source: http://www.webmd.com/skin-problems-and-treatments/hair-loss/men-hair-loss-17/hair-transplants