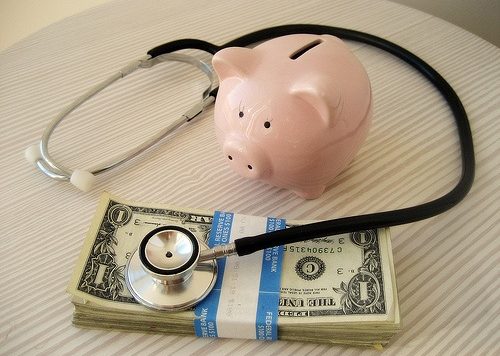 How to Save Money on Healthcare
Published On September 7, 2017 |
Health
Whatever country you reside in, healthcare costs are inflating quickly and our wages just aren't able to keep up with the pace. Therefore, instead of our wages that we've worked so hard to earn going on holidays or fun family days out, they're going on prescriptions and other healthcare expenses.
While many businesses do what they can to help their employees out with healthcare costs, it still doesn't make much of a dent in the costs that are actually involved. If you're looking to save money on healthcare, take advantage of the following tips to ensure your money goes further.
Cut Out the Middle Man on Prescriptions
If you regularly take a type of drug and you're spending loads via your local pharmacy, try a direct approach with the manufacturer of the drug. More often than not, they'll have a section on their site that offers discounts to customers. Many manufacturers are doing this today because they've realised it's more profitable for them than selling bulk orders on the cheap to local pharmacies. This tip isn't possible for everyone to take advantage of, but you'll be surprised by how many manufacturers now offer this service for the generic drugs you regularly consume.
Use Blink Health to Save Money on Popular Prescriptions
Blink Health is a good option if you're looking to cut the costs of popular prescription drugs. BlinkHealth's discount prescription drugs are available to those who can't afford the eye-watering costs of normal high street pharmacy prices. Join the movement today and see for yourself how much money you can save on regular prescriptions.
Keep Your Body in Excellent Shape
Many people around the world bring a lot of health issues upon themselves. Eating unhealthy foods and drinking excessive amounts of alcohol will only increase healthcare costs in the future. Experts recommend a minimum of 150 minutes of exercise is undertaken every week – even if it's just walking. Implementing different workout regimes into your week will only reduce the risk of healthcare problems, thus saving you money on healthcare costs.  
Listen to Your Doctor
For many of us, visiting the doctor is hard enough let alone doing what they tell us to do afterwards. According to studies, more than 1 in 5 people don't bother getting the prescriptions they're told to get, or don't use them properly. This means that eventually, you're just going to end up at square one and the costs are going to be even higher.
Shop Around for Prescriptions
Most prescriptions are generic and popular in all local pharmacies, so shopping around would be a wise idea. You're never going to save a huge fortune, but you could still save hundreds every year on prescription drugs just for visiting another pharmacy less than a 5-minute walk away. Some of the popular supermarkets now offer prescription drugs, so that could be another tip to consider instead of paying the high pharmacy prices.
With prices of prescriptions and the like expected to rise further, it's crucial you take advantage of the above tips to keep your finances in order. If you don't take action today, you could find yourself in a worse financial state in the future, and the stress of worrying about finances could lead to other health problems.