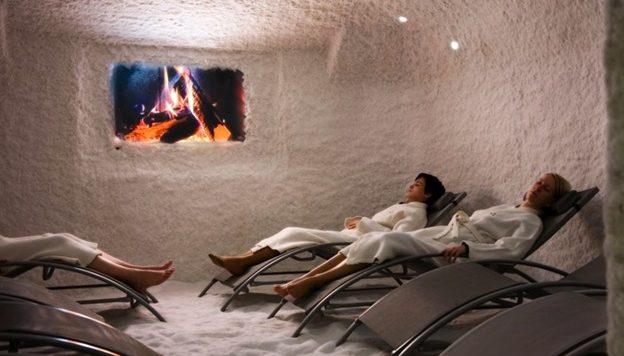 Experience Real Relief with Natural and Drug-Free Therapy
Published On February 19, 2019 |
Health
Have you ever heard of salt room therapy?
Well I don't blame you if you haven't.
We have long been using salt as a condiment or flavoring and for preserving food. Also, Salt is used for bleaching, dyeingand tanning; and for chlorine, pottery, and soap making. Now, evenchemical industries use salt.
If you think that the use of salt is just limited to those things, you underestimated salt. Today, salt is also used for medical purposes. To be specific, for therapy
What is this Therapy?
Salt Room Therapy- also known as Halotherapy –is basically a comprehensive, natural, and drug-freetherapy that uses salt.
This natural healing process started way back in the mid 1880's from Wieliczka salt cave in Poland, when a physician noticed that the miners in salt cave didn't get respiratory diseases that a normal miner usually have.
But, how does salt therapy works?
This therapy is basically done in a room – known to as a salt room, salt cave, house or bath. This room is filled with rock salt and inhaling salty air a halo generator is pumping in. The patient will just have to sit and relax in that room within a specific time.
Salt room therapy Australia can accommodate different conditions, such as:
Do you have any respiratory disease or allergy?
"Salt therapy is a 100% natural and drug-free therapy. A specializedHalo generator grinds Pharmaceutical Grade salt into tiny breathable particles and disperses these micro particles into the salt room."
If you want to have a natural glowing, clean, and healthy skin, then try salt therapy.
"Salt halotherapy is a 100% natural and drug-free way to help keep your skin healthy and clean and relieve the symptoms of conditions such as Eczema, Acne and Dermatitis."
Are you preparing for a big event? Or, do you need to work outevery day to maintain your body?
"Salt therapy can help relieve congestion, increase oxygen intake

 and help the body recover after strenuous exercise."
Do you have problem sleeping? Or, can't sleep at all?
"You can now enjoy a good night's sleep because Salt therapy has a natural relaxing effect on the body and can help stimulate sleep."
Benefits of Salt or Halotherapy
There are many benefits of salt room therapy.Salt has negatively charge ions that are good for our health and mood.Inhaling salt particles can reduce the risk of respiratory diseases such as:asthma, bronchitis, sinus congestion, allergies, and even Chronic Obstructive Pulmonary Disease (COPD).
Moreover, salt therapy can lessen headaches and stress, boost our energy level, and can stimulate sleep. Also, it can improve skin condition.
Salt Therapy Products
Salt room therapy Australia also offers a wide range of Salt therapy products, from oil spray, lotion, bath flakes, joint and muscle soak, salt scrub, moisturizer, salt soap, salt soaks, bath bombs, to bath fizz.
So, you can enjoy the benefits of Salt therapy, even you're at home.